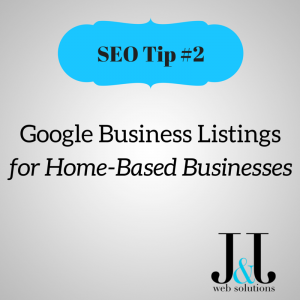 Now that your website is up and running, you want people to be able to find you.  Some of that will happen through "old fashioned" connections – word of mouth, referrals from friends, your own professional networking.  Some of that will come from SEO – search engine optimization. SEO is a fancy way of talking about helping people connect with the resources they need – it's a buzzword for capitalizing on human process.
Today's SEO tip has to do with setting up your listing on Google business.  Clients/customers in your area use services like Google search or Google maps to locate businesses and resources, and when they do, you want them to find YOU.  Even if you don't have a physical, brick and mortar location for your business, you can still add location services to your business listing so your service area shows up on Google maps.  Here's how:
Sign up for Google Business by going to http://www.google.com/business/
Follow their setup process, including location verification. If you work from home or do home visits, you will want to select the "service area" option which will hide your home address and show your business in a service area instead of as a brick-and-mortar location. You still have to provide a physical address as part of the process, but this information won't be in your public listing.  (Google has more info on service area business listings.)
Follow the prompts to create a profile page for your business – this is how Google gets the info it shows both on Google+ and in the search profile that comes up on an enhanced Google search.
Google will send verification information to the address you entered. Once your address is verified, you will appear in the search listings, with a service area radius around your business location. Note that you don't have a TON of control over this service area map – you may need to clarify this in your listing if your service map sets you up to travel out of your metro area, to an island, or anywhere else that might not actually fall within your normal service area.